FOLSOM COMMON RENOVATION PROJECT
"With a focus on the children of the Concord community and the overall appearance of our village center, we join together to explore Folsom Common renovation options including playground equipment, fencing, landscaping, and artistic considerations." — Folsom Common Renovation Committee       
COMMITTEE PROPOSED DESIGN SELECTIONS 
EQUIPMENT
Playground Equipment is selected and proposed based upon the age range of children it will serve (ages 3 to 12), functionality, vendor customer service reviews, and cost.  Miracle Playground equipment, sold and installed by Pettinelli and Associates located in South Burlington Vermont, was the chosen equipment manufacturer. To follow is a photo of the proposed equipment layout.
FENCING
Fencing only along Route 2 is proposed due to cost and the anticipated Folsom Common Road construction (to address water run-off) that is likely to occur in the next few years.  By placing fencing along Route 2 there will be a barrier between the road and the park area to protect children and add a level of privacy.  The fencing will have Vermont granite posts and black aluminum panels. Below is a photo of the design.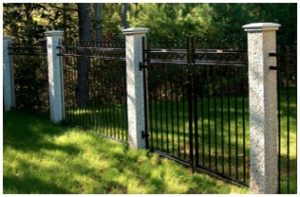 LANDSCAPING
M.R.M. Landscape and Maintenance are recommending plants and flowers that are easy to maintain and will provide color throughout the three seasons.  Plants such as mellow yellow spirea, a re-blooming lilac, black-eyed susan plants were mentioned. Links to a draft layout of the common and the full presentation M.R.M made to the committee during the process can be found below.
PROPOSED BUDGET
| | | |
| --- | --- | --- |
| AREA | COST | NOTES |
| Playground Equipment | $ 26,489 | Miracle |
| Equipment Installation | $  5,000 | Pettinelli & Associates |
| Engineered Wood Chips | $  2,150 | Cousino Wood Products – Community Installation |
| Fencing, Ground Preparation, Landscaping & Planting | $ 13,000 | MRM Landscaping – Community Day to Assist |
| Benches & Picnic Tables Updated by Community Donation | | |
| TOTAL BUDGET | $46,639 | $1,639 Additional Monies to be Raised Along with Benches & Picnic Table Assistance |
Questions & Answers
Why is the town renovating the Folsom Common instead of doing something different with the land?
Years ago the Folsom Common was donated to the Town of Concord as a gift with the covenant that the property always stay a common for the townspeople to enjoy.
Where is the money coming from to renovate Folsom Common?
The Town of Concord has been saving money from the annual budget over a number of years and the town now has $20,000 in a fund for park renovations.  Also, a generous donation of $25,000 was given to the Town of Concord in June of 2017 from the Estate of Sidney Patridge to renovate the Common and install a new playground for children and the community to enjoy.
Who has participated on the Common renovation committee?  
Public meetings to plan for the Folsom Common renovation started in June of 2017. Community members who stepped forward to assist with the planning include:
Julie Donohue, Principal Concord School
George Morehouse, Chairperson of the Selectboard
Cynthia Gaboriault, Town Clerk
Cynthia Stuart, Chairperson Zoning & Planning Board
Judy Kurtz, Member Zoning & Planning Board
Joshua & Jill Abetti, Pastor & Wife Concord Community Church
Ryan Chase, Community Member
What has been the planning process?
Meetings started in June and the finalized proposed plan (above) will be presented to the Concord Selectboard for review and approval and community feedback will be solicited until January 12, 2018 including a public meeting scheduled for January 11, 2018 at 5:30 PM at the Municipal Building for community members to attend, ask questions and give feedback. If there are any current trees/plantings on the Folsom Common that were placed in memory of a towns person, the committee wants to know to address this during the renovation.
How was the playground equipment being chosen?
The students at the Concord School discussed different playground equipment options and selected equipment that is newer in design and different from the playground pieces at Concord School (see picture above).
Has playground equipment safety been considered?
Yes, Jim Carrien from the Vermont League of Cities and Towns spoke to our group about playground safety considerations.  To follow is a link to the Public Playground Safety Handbook Jim recommended the committee  review.
https://www.cpsc.gov/s3fs-public/325.pdf
Have multiple quotes been considered?
Yes three different playground equipment providers have submitted quotes for similar equipment. Price, equipment options, and customer service were evaluated as comparison criteria.
What about fencing to protect children from Route 2?
The committee has reviewed different fencing options and proposes a fence that will protect children from Route 2 and will also add a welcoming appeal to the Concord Main Street.
When will the renovation occur?
The plan is to renovate the Common in June of 2018.
How should I provide feedback?
Please email Linda Hartwell at ldhartwell1@gmail.com with any feedback concerning the Folsom Common Renovation project.